The All-Star Battle Info and complete thread.
*Remember to always check the first post on occasion. Especially when the thread title has been updated. This thing can be updated all the time.*
Some ads came in hyping up the PV5 pre-screening, describing the game has "30+ characters" and online mode confirmed.
http://imageshack.us/a/img507/9507/ad1b.jpg
http://imageshack.us/a/img402/203/ad2rb.jpg
http://imageshack.us/a/img600/5616/ad3oa.jpg
http://imageshack.us/a/img824/5421/ad4sr.jpg
http://news.dengeki.com/elem/000/000/647/647207/
New PV is just over a week away! It will be 10 minutes! The new PV will be screened at Alta Vision in Shinjuku, Tokyo and at "Numbered" in Namba, Osaka at the same time. Haven't heard of these events/locales? Yeah I haven't either. It's airing there 6/9 at 5PM obviously. Which is 1AM PST. 8/9AM or so in Europe? We'll hear talk about it for sure. But I'm sure it'll be uploaded onto the official Youtube on the Monday after. Which will be earlier for some of us.
Jump scan (Issue #27) Street Date: June 3rd.
More info to come in the August issue of VJump. Street Date: June 21st.
New scans for Rohan, Cars, and newly shown game subsystems.
JoJo's Bizarre Adventure: All-Star Battle
Genre: Stylish Fighting JoJo Action (the legit description from the website)
Release Date: August 29th 2013
Prices: More in the Preorder thread
viewtopic.php?f=2&t=6051
Hardware/Software: PlayStation 3 (Currently a Japanese/Asian import only)
Players: 1-2
Developer: CyberConnect2
Publisher: Namco Bandai Games
Home Page:
http://www.bandaigames.channel.or.jp/list/asb/
All PVs and commercials on the site now.
Promo 2 (w/ English Subs) put up by TheGameTagerZ
http://www.youtube.com/watch?v=N_ogMZGP ... e=youtu.be
Promo 3 (w/ English Subs)
http://www.youtube.com/watch?v=jgxfs7e0xHE
Promo 4 (w/ English Subs)
http://www.youtube.com/watch?v=nuAl9rJt ... youtu.be&a
Jojo's Bizarre Adventure: All Star Battle
The first print edition will include a download code that allows you to use Kira Yoshikage. The limited-edition Gold Experience Box will also go on sale. This could be exceedingly valuable!
The CyberConnect2 ASB Development Team
Director:
Hiroshi Matsuyama
Game Designer: Kenei Nakasha [.hack//G.U. Vol.1//Rebirth (2006) (VG) (planner: game software development, CyberConnect 2) ]
Programmer: Noboru Hidaka
Lead Artist: Yoshitaka Kinoshita
Character Modeling Artist: Soichiro Iwasaka
Character Animator: Koichi Umeda
BG Modeling Artist: Masanori Esaki
Visual Effect Artist: Norihisa Takano
Animation Director:
Yoshinari Irikawa
UI Artist: Hirofumi Terada
Music Composer:
Chikayo Fukuda
TGS Demo Gameplay vids
Gamesradar with hilarously uninformed commentary = Jotaro-Gyro
Game Over HK = Jotaro-Joseph
Jotaro-Joseph
Japanator = Jotaro-Gyro
Gamespot = Wham-Joseph and Gyro-Jotaro
4Gamer Interview/Preview
Japanese Website Articles
Controls and Commands, Jotaro Kujo, Joseph Joestar, Wham, and Gyro Zeppeli
http://www.famitsu.com/news/201209/14021004.html
Battle System, Giorno Giovanna, Guido Mista, Noriaki Kakyoin, and Jean-Pierre Polnareff
http://www.famitsu.com/news/201209/13020986.html
Josuke Higashikata, Okuyasu Nijimura, Jolyne Kujo, and Hermes Costello
http://www.famitsu.com/news/201211/15024321.html
DIO, Abdul, and Hol Horse
http://www.famitsu.com/news/201212/06025443.html
Jonathan Joestar, Will A. Zeppeli, and Johnny Joestar
http://www.famitsu.com/news/201302/07028257.html
More detail on Jo2uke, Jonathan, Zeppeli, and Johnny
http://www.famitsu.com/news/201302/28029489.html
ACDC and Caesar Zeppeli
http://www.famitsu.com/news/201303/28030868.html
Koichi Hirose, Akira Otoishi, and the Morioh Town stage gimmick
http://www.famitsu.com/news/201305/09033000.html
Rohan Kishibe, Yoshikage Kira, and Cars (with stuff on the 3 new game elements)
http://www.famitsu.com/news/201306/06034323.html
Default Controls
*The following sections are a work in progress. There is a lot more to be known about this game right now.*
The Game Screen
1) Timer
Tick-tock. This will count down from 99 (or any other number you may be able to change it to) until the round ends or it reaches zero. If it hits zero, the player with the most life wins the round. Easy-peasy. Of course if you decide to play in infinite time, this rule is disregarded and you get to beat each other senseless without worrying about the inevitable passage of time.
2) Life Bars
Your characters have a set amount of "Hit Points". When you get hit by attacks this bar reduces. If your character loses all their life then BAM, you lose the round. Try not to let this happen, channel your spirit animal if you must.
3) Round Counter
If you or your opponent win a round one of these will fill up. Collect the whole set and you win! Most fighting games let you change how many rounds it takes to win a match, usually anywhere from 1 rounds to 5 per match.
4) Guard Gauge
As you hold away from the opponent and block their onslaught of attacks, this bar will decrease. The more you block the more it will go down. If it goes down all the way your character will be stunned for a moment, or "Guard Crushed", and left open for a free attack. If you're standing still or staying on the offensive, the Guard Gauge will gradually refill itself to full. Also, Stylish Move uses up some of the Guard Gauge but more on that in the Systems section.
5) Heart Heat Gauge
A meter the player can undertake in their battle plan for great fabulousness. Used for super attacks, Puttsun Cancel, Stand Rush, and maybe some other stuff we haven't found out about yet. As you can tell, the meter has a noticeable break halfway through it. Some unique abilities will use 50% of your meter. More on abilities that use Heart Heat gauge in the Systems section.
6) Heart Heat stocks
You can carry up to 3 bars of the Heart Heat gauge and this will show how much you currently have. The "stocks" are visually displayed as a number as well as with three tokens next to that number. It is still unclear whether or not the default meter amounts can be changed within the game options.
7) Special Gauges
Some characters have unique icons and meters above the Heart Heat Gauge. These display a variety of unique abilities specific to these characters. The only characters known to have these so far are Joseph, Akira, Mista, Hermes, Johnny, and Gyro.
Battle Systems
Throws
A close range attack that can't be blocked. Performed by pressing Medium and Heavy Attack together. Each of these display a very short cinematic when used.
OTGs
"Off the ground" or "on the ground" attacks. Certain characters have attacks that can also hurt the opponent when they're lying on the ground but before they get back up. For example, Joseph's hammer attack, DIO'd road sign, or Wham's pillar attack.
Getting up off the ground faster
What's commonly known in fighting game terms as "Ukemi". You can get up quicker when hitting the ground by either hitting attack buttons or moving the dpad or control stick. So far the exact way to enact this hasn't been confirmed. This is helpful to avoid taunts while you're grounded.
Taunts
ASB has a unique and fabulous taunting system. When you press the Select button, your character does an iconic pose/action and decreaes a fraction of the opponent's Heart Heat gauge. Another taunt can be activated while the opponent is knocked down.
Stage Gimmicks
Hazards frequently appear in most levels of ASB so far. Anything from stand abilities to natural phenomenon to a politician's vehicle. Whenever one such hazard is about to occur, you are clearly warned on that given stage via manga panels on-screen that show when it's about to come. When it does, its pathway is marked on the ground. So if you can, MOVE OUTTA THE WAY! This can do pretty good damage to you and your opponent, so you've been warned. It's not been confirmed yet if Stage Gimmicks can be turned off. Stages with hazards in them are clearly marked in the stage section below.
Situational Finishers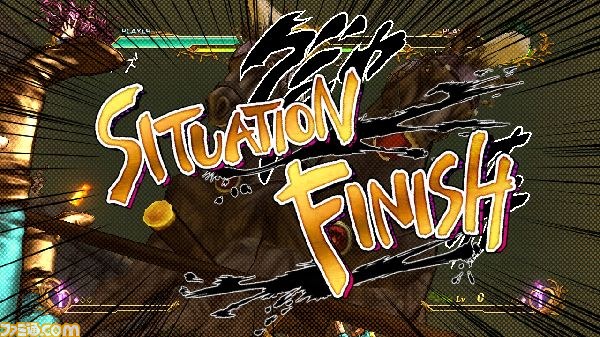 Along the same lines of Stage Gimmicks. Yet if you satisfy "certain conditions" on a given stage, while beating the opponent with an HHA or GHA, a cutscene specific to that stage will activate. From the examples given so far: the Chariot Horses in the Arena stage will trample you. Or in the Kira Residence stage, the loser will find Kira's notebook and something yet unknown will occur to them, assuming they get a photo taken and Yoshihiro attacks them.
Rush Mode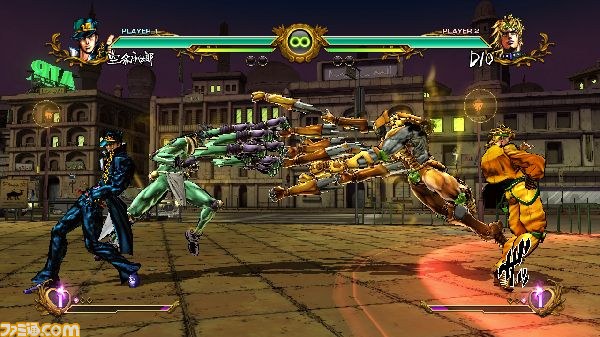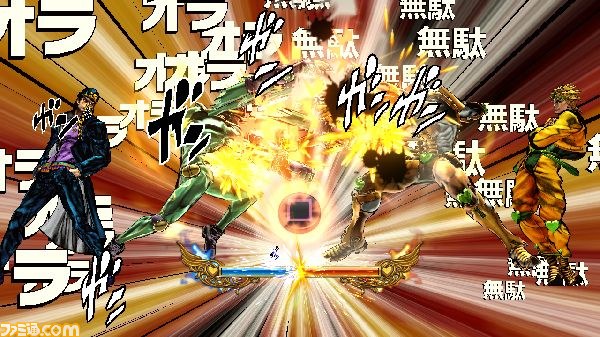 Similar to "Blazing Fist Matches" in the previous Capcom fighter, this sounds to work the same way. When two characters with a "Rush-type" attack (mashable multi-hitting special moves) face each other, and as these specific moves connect, a Rush Battle is initiated. Moves like Jotaro's "Ora Ora" and DIO's "Muda Muda" are this type of move. Mashing on the Light Attack button causes your character to attack rapidly punch/kick until the person who attacks the fastest is the victor. Many more characters in this game will be able to do this.
Chain Beat
(A = Weak Attack, B = Medium Attack, C = Strong Attack)
This game has chain combos! For the uninformed, chain combos are a a string of normal attacks chained together in quick succession to form a combo. Usually going from weakest strength up through the heavier attacks. Other games have the same system, ie; ArcSystem Works titles (Guilty Gear, BlazBlue, Persona 4 Arena), Darkstalkers series, Arcana Heart, you name it. A general combo string that many characters can use is A, A, A, B, B, C. Many characters will have chain combos unique to them. Use your best judgement to see what's best.
Easy Beat
An automatic combo that fighting game beginners can use to get easy damage. This works the same as in Persona 4 Arena. Tap Weak Attack repeatedly and an automatic combo will come out, ending with a Heart Heat Attack if meter is there to burn.
Stylish Move
Or a Fabulous Dodge. Guarding an attack with precise timing causes your character to dodge to the side while posing. From the description this seems to function similiar to Just Defend like in Mark of the Wolves or CvS2. Throughout this animation you are invincible and can capitalize on the opponent's mistake. When initiated this consumes some of the Guard Gauge, about 20%.
Puttsun Cancel
(PC for short)
"puttsun" refers to the sound of a string or chord breaking. Alternatively it refers to someone "snapping". This is used as a manga sound effect when things like this happen. Think of when Josuke gets pissed off when someone makes fun of his hair.
http://jojofigure.img.jugem.jp/20121223_417753.jpg
(from pv4, the sound effect katakana is directly in this too) Puttsun Cancel lets you cancel your attacks, either to continue into a combo or to stay on the offensive. It's similar to the Roman Cancel from Guilty Gear. This can only be activated when the opponent blocks or gets hit by one of your attacks. You'll know you did it right when a while flash appears on your character with the "puttsun" sound effect. It costs one stock of Heart Heat.
Heart Heat Attack
(HHA for short)
A dynamic and cinematic super attack that costs one stock of Heart Heat. It's performed with a fireball motion + any two attacks. Until proven otherwise, initiating the attack itself is the same for every character. Yet every character's HHA works differently, some even have follow up attacks. See what you like best!
Great Heat Attack
(GHA for short)
A character's ultimate fabulous attack, overlaying the character models in a manga panel style. Costs 2 stocks of Heart Heat. Like HHAs, the GHA is performed the same for all characters. It's performed with a fireball motion + all three attacks. Alternatively, it can be performed by just pressing the L1 button when using the default control scheme.
Styles
Similar to the Capcom game's Stand Button, the Style Button in ASB utilizes unique abilities for each character. There are 4 confirmed styles in the game and they will all be described down below. Note that not all of these styles have been fully explained to the utmost yet. They will be updated when appropriate.
The Ripple
The most basic style of the four, the only one that doesn't have to do with toggling an ability on or off.
•Ripple Breathing: Holding down the Style button causes the character to pose and "charge" the Ripple. While charging, the Heart Heat gauge will increase slowly.
•Ripple Guard: Guarding while holding down on the Style button will increase the effectiveness of the Ripple User's defense... for a price. It'll drain the Heart Heat Gauge slowly with the benefit of being impervious to taking block damage. In most fighting games you'll take a little damage from blocking normally, mostly from special attacks and super attacks.
Mode
A style that solely belongs to the Pillar Men. Probably the most meter intensive style yet the most interesting style in some ways.
•Mode Activate: Pressing the Style button toggles an ability mode that costs some Heart Heat to initiate then drains the meter until there's none left. The Mode that's activated can be turned off at the player's own discretion by simply pressing Style again.
Stands
Returned from the Capcom fighter, Stands work in a similar way but not without a couple new features to ASB.
•Stand Switch: On the fly, your character's Stand can toggled on or off. Certain special moves will be available only in one form or the other. Play around with your character to find out what they are capable of.
•Stand Rush: Select attacks in a character's repertoire will be marked as a "Stand Rush capable" special moves. What this means is you can press the Style Button while one of these moves is active to "un-link" from your stand as long as the attack is going. You can act as you will while your Stand is attacking. This can potentially be used for good mixups and setups. Cost some Heart Heat to activate. You can see Jotaro has two such moves in his movelist.
Horseback
The Style with the least details so far.
•Switch to Horseback: Much like with Stand characters, Horseback characters can switch onto a horse and back by pressing the Style Button. While grounded, characters move and act the same as any other, while on Horseback the character is much taller (being on-top of the horse) and their attacks change. Keep in mind some special attacks can still be used while on Horseback.
Other Modes
An Unnamed Story ModeOnline Versus Mode
An Online versus mode has confirmed as of June 7th. No further info provided.
Customize Mode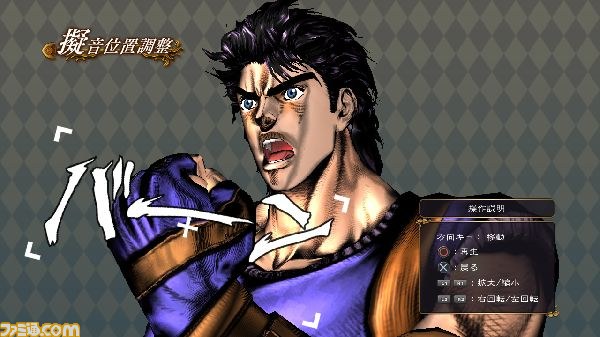 You can customize your characters in this game. Yet all info is not given so far, what's known so far is more than welcome. You can change your characters Taunt and Victory Pose speeches (the speech bubbles). You can also alter their clothing and colors. The capacity at which you can change these things is yet unknown. References to which chapter in the manga is also given to each pose and speech the character has. It's mentioned that to change your character's aspects, you collect these medals in-game that can be used toward Customize Mode. How you get these medals is still unknown.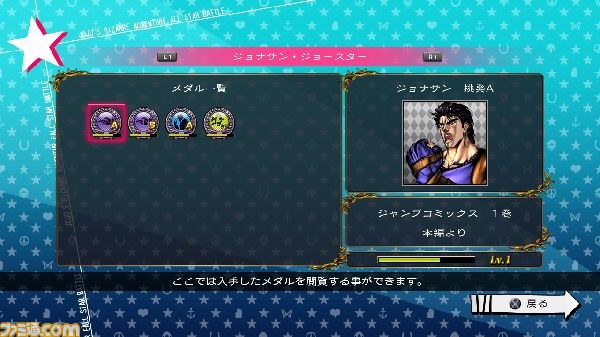 Confirmed Playable Characters
(29)
(Open the spoiler windows below a character to see their movelist. Not many charcters have actual notations.)
http://www.bandaigames.channel.or.jp/li ... acter.html
Phantom Blood
Jonathan Joestar (Kazuyuki Okitsu)
Will A. Zeppeli (Yoku Shioya)
Battle Tendency
Joseph Joestar (Tomokazu Sugita)
Caesar Zeppeli (Takuya Sato)
ACDC (Keiji Fujiwara)
Wham (Akio Ohtsuka)
Cars (Kazuhiko Inoue)
Stardust Crusaders
Jotaro Kujo (Daisuke Ono)
Jeanne-Pierre Polnareff (Hiroaki Hirata)
Mohammed Abdul (Masashi Ebara)
Noriaki Kakyoin (Koji Yusa)
Hol Horse (Houchu Ohtsuka)
DIO (Takehito Koyasu)
Diamond is Unbreakable
Josuke Higashikata (Wataru Hatano)
Okuyasu Nijimura (Wataru Takagi)
Koichi Hirose (Romi Park)
Rohan Kishibe (Hiroshi Kamiya)
Akira Otoishi (Showtaro Morikubo)
Yoshikage Kira [DLC] (Rikiya Koyama), Sheer Heart Attack (Tsutomu Kashiwakura)
Vento Aureo
Giorno Giovanna (Daisuke Namikawa)
Bruno Buccellati
Guido Mista (Kenji Akabane), Sex Pistols (Asami Imai)
Narancia Ghirga
Diavolo
Stone Ocean
Jolyne Kujo (Miyuki Sawashiro)
Hermes Costello (Chizu Yonemoto)
Steel Ball Run
Johnny Joestar (Yuuki Kaji)
Gyro Zeppeli (Shinichiro Miki)
JoJolion
Jo2uke Higashikata (Mitsuaki Madono)
Confirmed Playable Stages
(11)
Phantom Blood
Dio Brando's Mansion (Hazard: Unknown)

Battle Tendency
Skeleton Heel Stone Arena (Hazard: Vampire Horse Chariot)
Stardust Crusaders
Streets of Cairo (Hazard: The Senator's car)
DIO's Mansion (Hazard: Unknown)

Diamond is Unbreakable
Morioh Town (Hazard: Lightning Strikes)

Kira Residence (Hazard: Yoshihiro Kira Attacks)

Vento Aureo
Rome (Hazard: Unknown)
Florence-Bound Express Train (Hazard: Unknown)
Stone Ocean
Green Dolphin St. Prison (Hazard: Poison Arrow Frog)

Steel Ball Run
Atlantic Coast (Hazard: Unknown)

JoJolion
Wall Eye (Hazard: Unknown)

Here's a compilation of details about the game found during the gameplay sessions on the 2/16 ASB event. A lot of good stuff in here. Courtesy of the twitter community and mmcafe
http://www.mmcafe.com/cgi-bin/forums/bbs/messages/13393.shtml#63009
The other ASB discussion threads:
What Do You Want In ASB's "Unorthodox Story Mode" thread
- Want to see the full SUPER STORY! Discuss it! A good thread for theoretical discussions of how the story will be presented.
JJBA All Star Battle Roster List Speculation/Wishlist Thread
- Got some characters you love that aren't announced yet? Got a super cool character roster in your head that you want to share? Them post em! Share the love. Discuss the wonder of a full list of playable characters.
ASB Game Mechanics thread
- Discussion of how the game, characters, or other such systems may or may not work. Post your questions, comments or theories on how the system works or is supposed to work. At least for now there's going to be a lot of speculative discussion.
ASB possible EU/North American release thread
- The game may or may not be released in other regions, that's very much in the air. But if you want to discuss the possibilities, this is the place!
ASB preorder thread
- This thread hasn't gotten much traction lately, but any questions or comments on preordering the game should really go here. At the very least, preordering the standard copy of the game is easy!